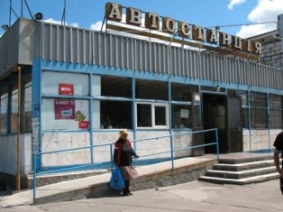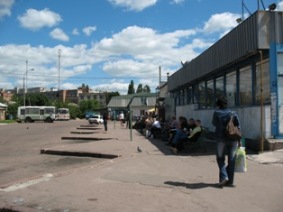 Korosten, Market Square, 2-A

(068) 783 98 95 (duty dispatcher of the bus station), Carrier Avtosvit LTD LLC: 4-51-61 (director)

Mon, Tue, Thu – from 5 h. 00 min. until 20:35, Wed., Fri., Sat., Sun. – from 5 h.30 min. up to 20 h 35 min.

All numbers of the route transport of the city (pre-specify the direction of the bus: towards the bus station). Stop: Central Market
Location on the map:

The bus station of Korosten (bus station) has cash desks for the current sale of tickets for suburban and intercity buses, luggage storage and other facilities where various services are provided to passengers. Equipped with 8 platforms. There is a loud announcement at the station, with the help of which passengers can not only get acquainted with the timetable, but also find out about the availability of seats on the buses. Every day, about 100 buses depart from the bus station. Almost all large villages of the Korostensky district have a bus connection with Korosten, there are many bus routes to the regional centers of Ukraine, and there are also routes to Belarus. The number of flights is constantly increasing, and in the summer, new routes were opened to places of public recreation. Today, at least 10 carriers that have permissions from Ukravtotrans cooperate with the bus station. Caring about the improvement of passenger service, bus station workers are trying to provide for all their needs, to provide service at the highest level.
The bus station of Korosten (bus station) is located next to the central cooperative market, at a distance of 700-800 meters from the railway station of the Korosten station (one stop by shuttle bus) at the address: Korosten, Bazarnaya Square, 2-A. Opening hours: Monday, Tuesday, Thursday from 5 o'clock. 00 min. until 20:35, Wednesday, Friday, Saturday, Sunday from 5:30 up to 20 h 35 min. Phone of the duty dispatcher of the bus station: (068) 783 98 95.
Intercity transport