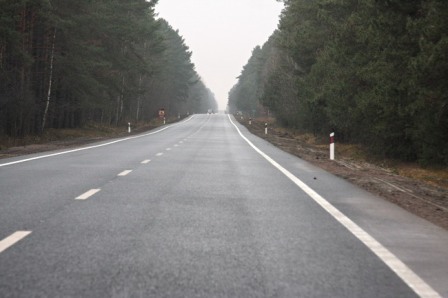 Korostensky district is quite well equipped with transport junctions. 5 railway lines pass through the district in the direction of Kyiv, Novohrad-Volynskyi, Ovruch, Olevsk, Zhytomyr, there are 6 highways of the national scale and 1 trans-European route Kyiv-Warsaw. Thanks to this, you can get to any settlement by suburban rail transport or intercity/suburban buses and it will not be too difficult. You can also order a taxi to any village 24 hours a day, taxi drivers are willing to go, the roads are quite passable.
The main role in the transport and economic connections of the Korosten Oblast belongs to railway and road transport. Korosten is one of the largest railway hubs in Ukraine. It crosses such important railway lines as Kyiv-Kovel, Kyiv-Lviv-Uzhgorod, Lviv-Luhansk. Through the Korosten railway junction, not only internal Ukrainian transport and economic connections are carried out, but also with countries near and far abroad.
The total operating length of only main railways within the Korosten Oblast is 250 km. That is, for 1000 sq. km of territory accounts for 141 km, while on average in Ukraine and Zhytomyr Oblast, this figure is only 38 km. Sections of the railway from Korosten in the direction of Kyiv and Novohrad-Volynskyi are electrified. In addition to main railways, there are more than 50 km of access tracks within the Korosten region. Within the district. there are 17 railway stations and bus stops.
In freight traffic, in addition to transit cargo, cargo sent from local enterprises also plays an important role. These are primarily products of quarries and crushed stone plants, reinforced concrete products and structures, machines and equipment, wood and wood products.
Among the cargo arriving at the railway junction for local consumers, coal, oil products, cement, mineral fertilizers, metal, machinery and equipment, sugar, grain products prevail. About 80,000 tons of cargo, 24 passenger trains and about 36,000 passengers leave Korosten every day.
Road transport accounts for a large percentage of freight traffic. Its role is particularly important in domestic transportation and communications, primarily in the transportation of agricultural products and passengers on suburban lines. Roads of national and international importance pass through the Korosten district. These are highways Kyiv-Kovel, and then to European countries, and Zhytomyr-Mozyr. The length of roads of national importance is 132 km and of local importance with a hard surface of almost 440 km. 30 bridges and overpasses were built on transport arteries.
Transportation of passengers within the district is carried out by 6 private entrepreneurs and LLC "Avtosvit LTD". 24 suburban routes cover 103 settlements of the district, the coverage level of settlements is 95.4%, which is one of the highest in the region. In 2007, carriers transported more than 430,000 passengers, including 261,000 in preferential categories, which is an additional pressure on the budget.
Avtosvit LTD and 4 private entrepreneurs transport passengers on 14 city routes in various directions of the city. The total length of the routes is almost 100 km, and the carriers make more than a thousand flights per day, transporting about 20 thousand passengers. Transportation of passengers by taxi within the city and district is carried out by a small private enterprise "Intermed", radio-taxi "SK", radio-taxi "Universal-Auto", and 170 private entrepreneurs who have permission for this type of activity. Freight transportation is carried out by the road transport of the state enterprise "Evro trans", LLC "Evro", by the transport of organizations and enterprises of the city and district, and by private carriers.
International motor transport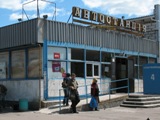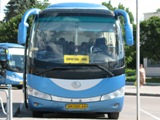 Railway transport