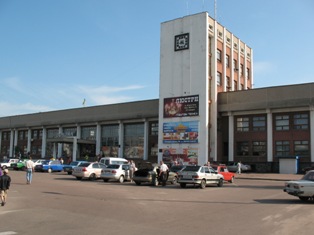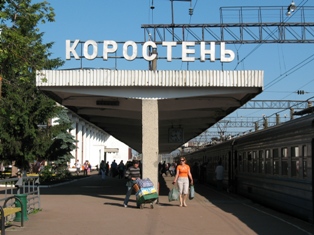 11500, Zhytomyr region, Korosten, st. Heroes of the Heavenly Hundred, 18

Information from the station: (04142) 2-21-31; Station duty officer: (04142) 2-21-21; head of the station: 2-22-53; head of ticket offices: 2-21-32; rest rooms: 2-37-93; mother and child rooms: 2-21-36; luggage compartment: 2-21-34; first-aid post: 2-31-64

The station is open around the clock, ticket offices are open all the time.

All numbers of the route transport of the city (pre-specify the direction of the bus: towards the railway station). Stop: Railway station
Location on the map:

Railway station Korosten.
The railway station of the Korosten is located next to the railway station market, at a distance of 700-800 meters from the bus station of the city of Korosten (one stop by shuttle bus) at the address: 11500, Zhytomyr region, Korosten, st. Geroiv Nebnoi Sotni, 18. Opening hours: the station is open around the clock, ticket offices are open all the time. Telephone information station: (04142) 2-21-31; Station duty officer: (04142) 2-21-21.

Services at the railway station Korosten
Luggage service. Preliminary acceptance of baggage and cargo from passengers; providing the sender of baggage or cargo with a tag or application form, label; filling in the tag; marking of a piece of luggage, cargo luggage; edging (packing) of 1 piece of luggage or cargo luggage; checking the weight (weighing) of luggage, cargo luggage, hand luggage; notification of the recipient about the arrival of luggage and cargo luggage at his address; storage of arrived luggage and cargo luggage in excess of the established period; refund of fees for unsent baggage; use of a wheelchair by a passenger.
Luggage storage. Storage of hand luggage in automatic lockers; storage of hand luggage in stationary storage rooms; storage of bulky items, including those that do not belong to hand luggage; forced opening at the request of a passenger of an automatic locker; storage of forgotten and found things.
Porter. Delivery by a porter of oversized hand luggage.
Accommodation of passengers. Accommodation of transit passengers in mother and child rooms; accommodation of transit passengers in rest rooms; accommodation of passengers in the suite; acceptance of a preliminary order from passengers for the provision of seats in the lounge.
Use of the rooms. Use of the meeting room, hall of official delegations; use of the waiting room; use of the household room.
Help. Issuance of complex certificates; issuance of written certificates; issuance of a ticket price certificate; issuance of a certificate for the city, region.
Other services. Removal from the train of hand luggage of passengers who have fallen behind the train; announcements on the station radio information at the request of the passenger; reception of telegrams by station attendants; ironing services; paid toilet services; shower service; xerox services; fax services; typing on a computer; provision of storage space for bicycles.
Railway transport