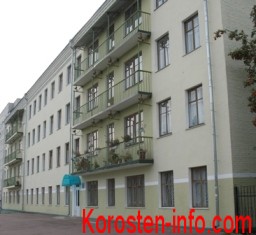 11500, Zhytomyr Region, Korosten, 66 Hrushevskogo St.

(041-42) 4-90-15.


№7,№1,№5 route transport of the city. Stop: "Sacco and Vanzetti Street".
Location on the map:

Korosten City Art School
The art school of the city of Korosten is located in the same building as the Korosten city department of education at the address: 11500, Zhytomyr region, Korosten, Hrushevskogo str., 66. You can get there by city bus #7, #1, #5, stop: "Sakko and Vanzetti". Phone: (041-42) 4-90-15.
The Korosten City Art School was opened in 1983 by the decision of the Executive Committee of the Korosten City Council. The first director of the school was Baranivska Larisa Hryhorivna. In the first years, the school had a director, one teacher, a cleaner and a maintenance worker. Currently, the school has a director and 4 teachers. Over 25 years, 307 students received school leaving certificates, 19 graduations took place.
The aim of the art school is to attract children to the fine arts, to reveal individual capabilities and talent, to raise the cultural level, and to prepare the most gifted children for admission to higher art educational institutions. A large percentage of the school's graduates connected their work with fine arts, 88 people obtained a higher art education, 6 of them worked at the school as teachers, and one of them currently heads the school's staff. Two graduates of the school, after graduating from higher educational art institutions, completed post-graduate studies in the specialty "Architecture and Painting".
In addition to educational activities, the school holds cultural events at regional and all-Ukrainian exhibitions and takes prize places.